Thoughts on the feast of All Saints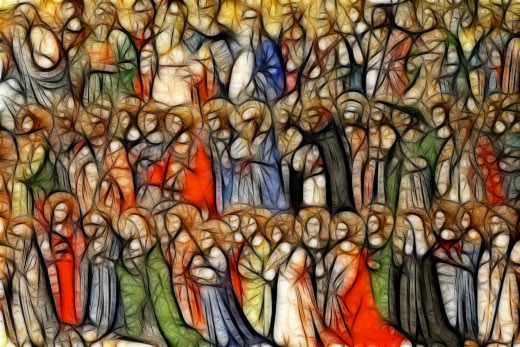 What does the Feast of All Saints tell us:
Let us look at the people who have lived their faith in an authentic way and have been canonised by the Church. Can they still be an example for us today? How have they lived the fullness of their lives? What would they tell us when we could ask them? They would amaze us.
God has called us all to holiness, as St Paul emphasises. We only need more courage to trust in God without reservation. Why not celebrate a personal "saint's day" for yourself more often. What do I know about my name patron saint? Perhaps I will rediscover for myself the "fullness of life" that Jesus speaks of in John's gospel.
It is not so easy to understand what sainthood and holiness is all about. Let us listen to 8 or 9-year-old children and what they have to tell us.
"Jesus was a saint who could do everything. Turned water into wine and vice versa."
"There is a saint or every day. But now there are days left and no more people can be canonised."
"When the saints were little, they committed some sins too, then they became perfectly good people. "
"The saints were equally pious when they were born. When they grew up, they sacrificed their whole life to become saints."
But become a saint - is this achievable? Does it not seem to many to be an unattainable goal?
Father Rupert Mayer says: "Holiness does not include any obvious heroic deeds - no deadly serious face - no particular circumstances. God in your heart and God before your eyes, in these words lies the key to holiness".
Recently I read the following sentence: "Saints are people through whom the sun shines". (Author?) Do I know such holy people in my social circle? Their names, their life story? What kind of secret is about them? How can I live like this myself? Can I imagine writing my own "biography of a saint"?
Pope Francis published an Apostolic Letter in 2018 with the title "On the Call to Holiness in the World Today". There he says very clearly what is meant by holiness in the world. For example, he writes the following: "To sow peace around us, that is holiness."
Where can I try to sow peace around me? Come- have courage to be holy!
Sr. Stefana Desch