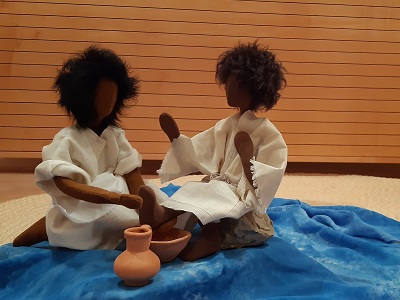 Today, Holy Thursday, we celebrate the "Day of Brotherly Love". This is a day to reflect on the charity and tenderness that is expressed in the humble, generous and gratuitous service of Jesus.
Jesus' gestures of love were expressed at the last supper, where he met with his disciples and, why not think that his mother and female disciples were also there, to celebrate the Jewish Passover. In this celebration Jesus has two acts of self-giving and service: washing the feet of his disciples and sharing his life in the form of bread and wine as a sign of covenant with all humanity. These gestures are Jesus' ways of loving, where he stakes his life on each person, on service and fraternity.
Today, also in the midst of our communities and families, confined by the pandemic, we are invited to remember these gestures and words of Jesus. We feel impelled to pray for so many people who suffer and we feel solidarity, we lean towards them in different ways, through material bread, prayer, listening and accompaniment. It is urgent to continue to look at Jesus, who bends down, washes feet with simplicity and tenderness. This is Jesus' WAY of LOVE, the image of a solidary, humble and compassionate God.
In this space for reflection let us pray with the lyrics of "Your way" by Cristóbal Fones SJ, let us ask to follow the different ways of loving Jesus: "may his way of loving move us to love, may his steps be our steps, may we give ourselves to death for the Kingdom and may we be able to love the Father and our brothers and sisters, serving the Kingdom in freedom".
Sr. Esther Fernandez
Song "Your way"- Cristóbal Fones:
external links: Lyrics Video