Clare - the everday saint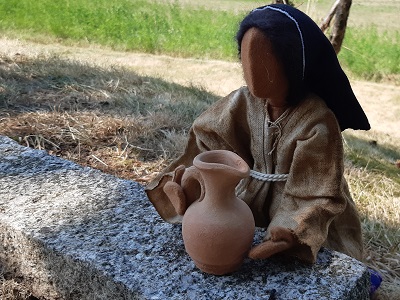 Beyond her death, Clare has remained connected to us as a saint and intercessor. Throughout her life she shared her faith and the joyous peacefulness it brought her. Faith gave her courage in difficult times and strength to shape her way of life, her search for clues. Her life helps us to find answers to the questions of her time.
How did a woman who wanted to develop an intense relationship with God live up to the challenges of everyday life? We can find traces when we read scenes told by sisters who lived with her in San Damiano.
For example, in the kitchen of San Damiano there was nothing left of the precious olive oil, which was even allowed during fasting. A luxury good, but important. Clare calls a brother, a sister, who go begging for her and asks them to get oil in the city. Did she find it difficult to express this request? She washes the empty vessel and places it on the wall that serves as a contact point for the beggars. She leaves everything else to the brother. But the brother finds the oil vessel already filled, although no one had been seen or had the opportunity to do this. This early miracle was a sign of God's generosity, which must have given rise to amazement, conversations and lasting contemplation.
Clare obviously had the overview in the kitchen of San Damiano. With her knowledge of nursing, she was also able to establish which ingredients could serve as a remedy when required.
Clare's rule states that the sisters should not just pray but also work. She herself is said to have been tirelessly busy. Through her upbringing in a noble house she had the skill to work with thread and needle, from fine embroidery to coarse weaving. When Clare fell ill, she probably still embroidered, sitting up in bed, supported by pillows.
So, her sisters carried out work in the kitchen, helped at the gate or infirmary and did needle work. It is also told that the sisters cultivated a piece of field as a garden for their own needs.
Clare had great tenacity in her struggle for her way of life. She was a master in consistently discerning the ordinary in the sacred and in finding the sacred in the ordinary.
How do we feel today in a time of crisis, not only the pandemic but also the economic downturn and the ecological crisis? Our faith is being put to the test. Our faith is shaken by the reports of abuse by priests and religious. And what about the hidden needs of so many who are uprooted from the Christian tradition and are looking for new perspectives?
What answers to the big, vital questions are we searching for? What is the meaning of my life, my daily tasks and work?
Can I love myself just as I am so that even at the end of my life, like St. Clare, I can say: "Lord, be praised because You have created me."
Sr. Eliana Rattler