Loving Christ - and following him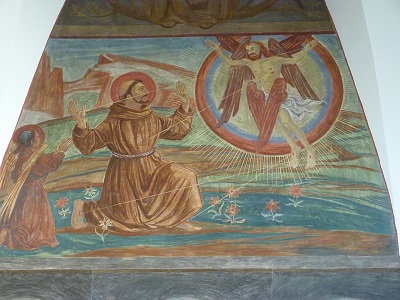 On 17 September 1924, St. Francis received the stigmata of Jesus
La Verna - people who travel with Francis know this place, and I believe that they are also touched (in this place) and yet can only guess what happened to St. Francis there.
Francis had a hermitage on Mount La Verna, and he was always drawn there. In this place Francis found peace and time to reflect on the life of Jesus and his cross and suffering. He had withdrawn there in his most difficult time, when he doubted whether what was happening in the Order was still right.
And it was there that he received the wounds of Jesus on September 17, 1224.
With the cross in St. Damiano the path of St. Francis began. For many hours Francis contemplated Jesus on the cross. From then on, Francis was deeply connected with the suffering and crucified Christ. Francis felt the love that Jesus gave to all people, he felt the openness that he had towards all that was created. Francis felt Jesus' compassionate heart. He allowed himself to be completely seized by this compassionate Jesus, even more, he allowed himself to be wounded and accepted suffering out of love for Jesus Christ. In his life it is only important to do what Jesus wants from him, to become more and more similar to this boundless love.
Accepting the cross and suffering in his life and in the encounter with people and creation connects him more and more with his beloved Jesus. By letting himself be hit by his own suffering and the suffering of others, he connects himself ever more deeply with love. Every sign of a cross, for example crossroads, forks in branches, connects him more and more with crucified love. Francis felt even then that people were struggling to recognise this love. Francis wept, because love - which is Christ - was not loved. The more he felt this, the more he loved. Jesus was everything to him, everywhere he felt his closeness, but also his suffering. Francis accepts this suffering and loves it in Christ. In this love he is thus given a gift, filled with an even greater love. In this love Christ draws him with his wounds.
Prayer of Pope John Paul II during a visit to Mount La Verna on 17.9.1993 in the Stigmata Chapel
Saint Francis, on the La Verna with the wounds,
the world yearns for you as the image of Jesus Crucified.
It needs your heart,
open to God and open to people,
she needs your bare and wounded feet
she needs your pierced, praying hands
She is longing for your tender one,
but penetrating voice, powerful through the gospel
Help, Francis, the people of today,
to recognise the evil of sin
and to seek purification through repentance.
Help them to free themselves in the same way from the structures of sin,
which are depressing contemporary society.
Awaken in the consciences of those in power
the urgency of peace between nations and peoples
radiate the freshness of life in the hearts of young people,
knows how to resist the reenactment of the many different cultures of death.
Parts, Francis, with those wounded by all kinds of malice
the joy of forgiveness.
All those crucified by suffering, hunger and war
open again the gates of hope. Amen.
For reflection:
Stigmata:
Loving Christ - and following him
Love makes you vulnerable and lets me carry the wounds of another
The wounds of another become my wounds
The cross of Jesus Christ
Sister M. Claudia