"St. Mary Goretti: model of love"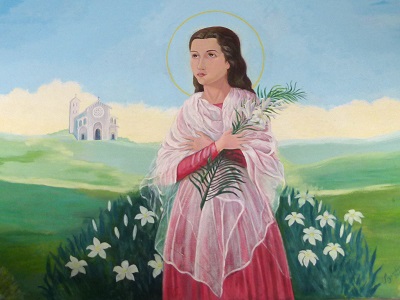 Today we remember an eleven-year-old adolescent girl, of simple origins, with a delicate purity of soul and body, with a beautiful and sympathetic nature, with a strong and mature personality, a martyr who stood firm and could defend the purity of heart and body; an example of Christian commitment to our youth and young people of today.
The testimony of St. Maria Goretti is topical... Her purity, her capacity for forgiveness and the conversion of the murderer are themes worthy of reflection not only for believers, but also for those who do not believe because they help to realize a fulfilled life.
Our educational center in Lima, Peru, is named after these great saints. Its founder and first director, Sr. Johanna Eifertinger, from our Congregation of the St Francis Sisters of Vierzehnheiligen, chose this name in agreement with her Sisters, because of the situation in the local area, as a worthy patron of youth.
The example of Maria Goretti, a young martyr full of purity, still inspires in the hearts of our children and young people today the spirit of forgiveness, mercy and devotion to Jesus.

Sr. Maritsa Cartenas Osores

06. July 2020