Señor de los milagros – The Lord of Miracles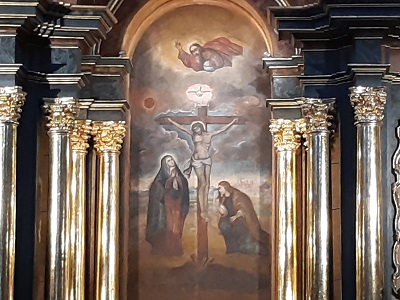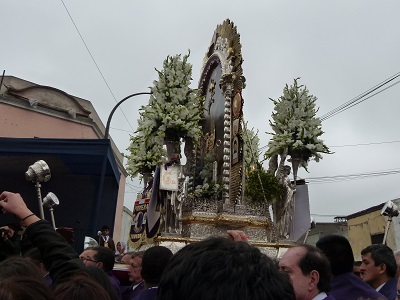 This October, the Peruvian Church celebrates the Lord of Miracles, also called Christ of Pachacamilla or Black Christ. His feast day is October 28th.
This significant tradition goes back to the 17th century when the image was painted by an Angolan slave on a clay wall in Pachacamilla. The devotion derives from the miracles attributed to the Black Christ, in particular the one of the 1655 earthquake in Lima when several buildings were destroyed, but the wall with the image was spared. Years later, the first procession through various places in Lima with the replica of the Lord of Miracles took place. Since then, the image continues to be brought to the streets of Lima, leading people to faith in the crucified Christ who looks at the Peruvian people with love and mercy.
There are various reasons why hundreds of people walk with the Lord on His way, some for conversion, health or to give thanks for the grace given to them or their loved ones, bearing witness that this tradition is born of faith rooted in the Lord.
This year would have been the 333rd procession but due to the Covid-19 pandemic, it can't happen. For this reason, the Church of Lima invites us to live this tradition in a different way, it invites us to have a "great spiritual retreat in the Purple Month, letting ourselves be led by the Spirit of God and thus learn to live as resurrected Peruvians". To do this, they offer us practical advice and an online program with Eucharists, processions, the Way of the Cross, praying the rosary and formative talks. In this way we continue to contemplate the Lord of Miracles who comes to us to give us life in abundance so that we can share that life with our brothers and sisters. May our Christian witness reflect our faith in the crucified Christ who gives His life out of love and who invites us to rise with Him.
Sr. Maria Cecilia Naranjo Vega