Saint Martin de Porres
Peruvian saint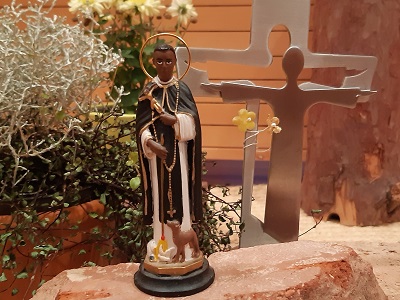 "God's gaze is not like man's, for he looks not at your outward appearance but at your heart. He makes you his instrument to make others blossom."
Every year on 3 November the feast of Saint Martin de Porres is celebrated, who is known for his humility.
He lived as a Peruvian religious of the Dominican Order (Lima, 1579 - 1639), and was a contemporary of Saint Rose of Lima, the first Saint of America.
Martin de Porres is a famous saint in our country. However, when we are asked who Saint Martin de Porres was, the first thing that probably comes to mind is the image of the dark-skinned saint, but he does not stick to this image alone, he surprises us with his life example.
Martin is a saint of the people, and the people feel and live it that way. The variety of names with which people usually call him, "Brother Broom", "the little brown one", "Saint Martin the Poor", "Martin the Good", "Martin the Charitable", says a lot about how people (especially the poor and simple people) remembered him.
Martin de Porres was a true model of the Gospel. Among his virtues are: his steadfast spirit of prayer, his special devotion to the sacrament of the Eucharist, to the Virgin Mary and to Jesus Crucified.
We remember our Saint Martin of Porres, who knew how to make the synthesis "between the love of God and the love of neighbour", bringing to life the Gospel of Mk 9:35: "If anyone wants to be first, let him be last of all and servant of all", which reminds us of the immense power of humility and service.
In a world saturated with so many words, images, corruption and insecurity, the Saint of Lima is a constant reminder of the effectiveness of example and of the greatness of the small daily actions that can change the immediate environment and even the course of history.
His life and work today retain all their strength and freshness, his exemplary humility and spirit of service continue to be an example of Christian discipleship and a sure path to that holiness which we all want to achieve.
St. Martin is remembered with the broom, a symbol of his humble service. For this reason, Fr. John XXIII said at his canonisation in 1962: "May the example of Martin teach many people the sweetness and happiness that lies in following Jesus Christ and following his divine commandments.
Sister Ildaura Lino Ventura