Resurrection - without words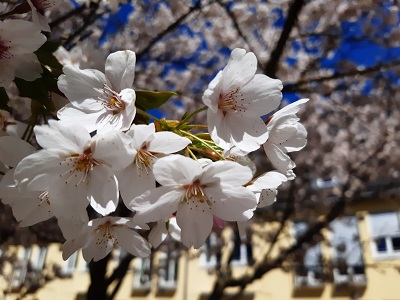 Today I was looking for branches for an Easter wreath for our door. It was good to be out and about in nature, which is sprouting so luxuriantly. Everywhere buds are bursting open with all their might, lime-green leaves are unfolding and the trees and hedges are producing new shoots.
How beautifully nature here in Central Europe tells the secret of Easter with power, diversity, colour and without words. What seemed lifeless has silently gathered energy that was only waiting for warmer days to literally "explode". And yet everything is happening harmlessly and silently. To our ears at least, this awakening is a silent process.
I ask myself whether the resurrection is also so silent. In medieval paintings, the Risen Christ blasts the tombstone. It's not really quiet. And yet the guards are asleep.
Perhaps the sound of the resurrection is only audible to awakened ears. And perhaps we unawakened ones simply need to listen more with our eyes.
Nature, at any rate, speaks without words a thousandfold of what resurrection can be in our lives: A good word after a long silence. Meeting a smile in the darkness of the soul. A daisy that blossoms between the stones. A song that rings in my ear on a bleak day. Being able to get up again after a long illness. A place with friendly people after a long journey of fear and escape.
This is understandable even if we don't speak the same language - resurrection without words.
Nature shows us how it works.
Sr. Katharina Horn